Welcome to the Halve Mein HHH home page.

We're all a bunch of nitwits.
Hashing Doesn't Suck


On-On! Come join us for a run and a cold one!!
We are located in Southern Saratoga County and currently run every 2-3 weeks throughout the year. We will sponsor runs anywhere within an hour of the Capital region and further, if it sparks interest.
Anyone interested in hashing and would like to try it - come on out! Your first run is on the hash (thats right free, gratis, no money, just your time, you won't be disappointed)
"ahhh...rustle of leaves, quick, then gone...
sounds of the pack far in the distance...
dusting of flour settles then waits..." - jc
Next Runs (Updated 11/20/23):
HARES NEEDED! The 2024 Hash Calendar has been posted! Plenty of open dates. If there is a specific weekend or date that you want, now is the time to grab it! Step up! Check it out on the Upcoming Runs page
What: 754 TriFuckta Day 1 - Black Friday Hash
When: Friday, NovemBeer 24, 1PM
Hare: DeciBelle / Utica Chub
Where: Plotterkill Preserve Google: The Plotter Kill Preserve, Mariaville Rd, Rotterdam, NY 12306

The Anal Trifuckta is here! Let's start the weekend off right with the Black Friday Hash hosted by DeciBelle and Utica Chub. We'll run from the beautiful Plotterkill Preserve this year. Wear shiggy ready clothing and bring a change of footwear! Circle and After party will be held at South Pork Ranch; food available. Crash space is available. You might want to bring your own bedding or mattresses.

Five Dollah Make Thee Hollah! The hash needs virgins, so bring some.

TriFuckta Day 2 - Burlington Drunken Pilgrim, Saturday, Novembeer 25 D'erections

TriFuckta Day 3 - Montreal, Sunday, Novembeer 26
D'erections
---
What: 755 Jingle Bell / SANTA SPEEDO / AGM / Nifty Gifty Exchange / Dirty Carol Hash
When: Saturday, Decembeer 9, 1PM
Hare: Santa Piggy
Where: Oh Bar Google: 304 Lark Street, Albany, NY 12210

Cum one - Cum All - Cum together or Cum alone! It's time for even more tradition!

Jingle Bell Pub Crawl, and Anal General Meeting (AGM) will be happening Saturday, Decembeer 9th. We'll meet at the Oh Bar on Lark Street at 1PM and we'll join in on the SANTA SPEEDO run at 2pm. Then with pants back on (or whatever) we'll continue on our merry way.

We'll enjoy a pay-as-you-go pub crawl featuring dirty Christmas carols, so bring your singing voices. Non-hashers are more than welcome to join in on the fun. Song books will be provided.

Don't forget to wear your Santa hats, Antlers, sexy Mrs Clause outfit, ugly sweaters (anything, really!) and wear your jingle balls! Er...Bells.

In accordance with TRADITION, we have a White Elephant gift exchange at the Jingle Bell. Please bring a wrapped gift (10 dollars or less, alcohol is always a favorite!) to go into Santa Piggies magical bag. When the dust settles, you could be the proud owner of something wonderful! (But probably not.)

At some point we will nominate and erect next years Mismanagement. You do not need to be there to win, and in fact, have a better shot of winning if you are not there. Who will be our next RA? GM? Haberdasher? Do you have what it takes? Does it matter?

As always, food will be available at the stops along the way. Eat or not, it's up to you.
---
Hashtobeer is over! NINE of you have no lives and made it to all 5 HashToBeer hashes, and will get your KNURD 2024 Rego for 69 dollahs. Your whiners are: Dirtbag, Cumdickulous, Moans Aloan, Edge Whiner, 6.9 on the Rectum Scale, SeizeHer Cooch, Tap Dat Ass, DeciBelle, and Piggy!
---
MAILING LIST REPLACED.

As of Monday, March 27th, we have created a new mailing list for the hash. Everyone who was on the old list has been subscribed to the new list.

KNURD XVIII IS OVER!

Holy cow. What a great time. Thanks to all who came. Thanks to all who worked their butts off to make it happen.

See you NEXT YEAR! (I guess. if we have to.)
---
"Definitely Not a Cult" Swag is available! Go order yours now!

I got in touch with Choo Choo Cabra of the Richmond Hash HH and she has posted the "Definitely Not a Cult" gear on Bonfire.

She added Sweatshirts and Hoodies to the campaign, so grab all the kinds of swag you want. Self order, self pay and it'll get mailed right to your door step (or cave entrance or your Mom's basement steps) at some point.

Not a Cult Gear on Bonfire
---
Lyrics to "The Spirit of Gisberg" have been posted on the Songs page.
The pack did indeed locate the "luxury tree stand" pictured here on Hash 544!. Like so many things (as you ladies know) it was smaller in real life...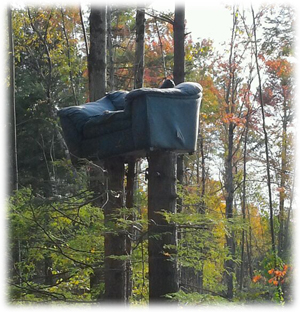 "From there to here,
from here to there,
funny things are everywhere."
- Dr. Suess
---
Newest Trashes (Updated 10/30/15):
Ever wonder what it's like when the pack is snared by the hare? Hash scribe Moans Aloan describes the feeling in this retelling of Tap Dat Ass's birthday Hash 506
Ever wonder what it's like to do trail completely alone? Hash scribe Moans Aloan lived up to her name and scrawled this send up of the Jizz Family Robinson's recent trail, Hash 504
Since the 500th Hash is a special event, Little Wang Theory and Moans Aloan double teamed us with trashes from both ends of the pack. Check them out 500th Run
Stand in Hash scribe Moans Aloan was able to type most of this while riding her bike during this years BASH
Hash scribe Little Wang Theory took his hands out of his shorts long enough to scribble a trash for Run #482, Blow it out your Kazoo Hash
Hash scribe Little Wang Theory bought a map and a dictionary and takes the piss out of the hash in this weeks send up of run Run #484, Chinese New Year Hash
Hash scribe Little Wang Theory got off your Mom long enough to mumble a trash for Run #485, Spring Forward! Hash
Hash scribe Little Wang Theory pretended he actually came to a hash and wrote this send up of our St Patty's Day-ish trail. So easy, even a monkey can do it: Run #486
Stand In Hash scribe PigFucker farted out this one for your weekend pleasure: Run #487, April Foolish Hash aka Sperm Bank's Redemption Hash
---
Did you know? You can also access this webpage by using the URL www.albanyhash.com This makes giving our address to drunk people so much easier!
---
Our Mailing List is active. You can sign up to receive run notices/directions/anything we feel you might need to be notified about.
If you have previously hashed and would like to hare a run, please contact the Web Master. Or just surprise us and show up at the run. We love surprises! Just follow the directions on the Upcoming Runs Page.